Davenport Methodist Church welcomes you to its community!
Sharing God's love for YOU: that we might seek and know it together
We are back ! From Sunday 23rd May (Pentecost) we will be re-opening our Church for Communal Worship. Social distancing measures will still be in place and face coverings indoors will be mandatory. Weather permitting, our Sunday morning services will be held outdoors. For further information, please contact Judith Mottram at judithmottram8@gmail.com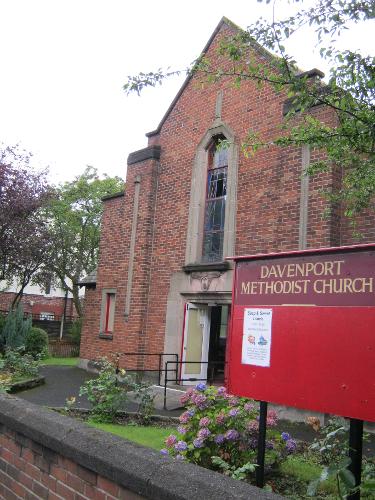 About Us
We are a small and welcoming church - is God calling you to join us?
On Sundays we have a service at 10.45am, with Junior Church (5 - 10yr olds) and Teen Church (10 plus).
During the week, fortnightly, we have a Bible Study time and then in the evenings the Uniformed Organisations and Thursday group meet.
Then there are also occasional special events e.g - Autumn Fair, Harvest Supper and joint activities with the Adswood Covenanted Churches.
The Church is registered for weddings, for which you will require a certificate from the Registry Office. Baptisms are held during the Sunday Morning Service, and funerals / memorial services also take place.
If you want to talk about a wedding, baptism or funeral, then please contact the minister.
For room booking enquiries, contact :- davenportmethodistchurch@gmail.com.